Ramah Consortium of Biblical Institutions
WELCOME
C.D.C. RAMAH CONSORTIUM OF BIBLICAL INSTITUTIONS IS VERY EXCITED ABOUT THE OPPORTUNITY TO WORK TOGETHER WITH YOU AND/OR ASSIST YOUR CHURCH, SCHOOL, COLLEGE, SEMINARIES OR THEOLOGY INSTITUTIONS IN REACHING ANOTHER LEVEL OF EXCELLENCE IN CHRISTIAN EDUCATION. IT IS OUR DESIRE TO INCREASE THE KNOWLEDGE IN THE BODY OF CHRIST IN CHRISTIAN EDUCATION AND BRING GLORY AND HONOR TO GOD. AS LEADERS WE CAN POOL OUR TALENTS AND GIFTS TOGETHER TO HELP PUBLISH THE WORD AND FULLFILL YOUR VISION FOR YOUR SCHOOL.
Click on to our other sites:
my space site: dr carol sherman's ministry
ONE OF OUR MANDATES IS THE DEVELOPMENT OF RELATIONSHIPS BETWEEN RELIGIOUS EDUCATIONAL INSTITUTIONS AND SCHOOLS OF MINISTRY ACCREDITED BY C.D.C. ACCREDIATION COMMISSION OF BIBLICAL INSITUTIONS OR NOT.
TO STUDY CONCERNS OF COMMON INTEREST OF OUR SCHOOLS AND INSTITUTIONS IN VARIOUS LOCATIONS AND TO ENCOURAGE THE TRANSFER OF CREDITS, TRAINING ACHIEVEMENTS AND EMPLOYMENT REFERRALS FROM ONE MEMBER INSTITUTION TO ANOTHER.
TO IDENTIFY AND MAINTAIN A CLIMATE WITHIN OUR MEMBER INSTITUTIONS THAT CALLS FOR THE SPIRIT OF EXCELLENCE THAT STUDENTS MAY BE BETTER TRAINED IN THE KNOWLEDGE AND SKILLS REQUIRED FOR EFFECTIVE EDUCATIONAL AND SPIRITUAL GROWTH.
TO PROVIDE TECHNICAL SERVICES TO OUR MEMBERS AND TO RELIGIOUS ORGANIZATIONS IN THE CREATION OF INSTRUMENTS OF INFORMATION AND DOCUMENTATION CONCERNING RELIGIOUS EDUCATION.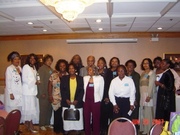 WHAT IS C.D.C. CONSORTIUM OF BIBLICAL INSTITUTIONS
C.D.C. RAMAH CONSORTIUM OF BIBLICAL INSTITUTIONS IS AN ASSOCIATION OF ACCREDITED EDUCATIONAL INSTITUTIONS, THAT HAS FORMED A PARTNERSHIP WITH C.D.C. RAMAH CONSORTIUM OF BIBLICAL INSTITUTION TO HELP PROMOTE CHRISTIAN EDUCATION. THIS CONSORTIUM RELATIONSHIP GIVES STUDENTS ACCESS TO COURSE OFFERINGS OF THE OTHER INSTITUTION THROUGH CROSS REGISTRATIONS ARRANGEMENTS AS WELL AS ACCESS TO RESOURCES OF THE CONSORTIUM AND OF THE OTHER SCHOOLS IN THE CONSORTIUM.
C.D.C. RAMAH CONSORTIUM CAN ARRANGE TO HAVE YOUR SCHOOL IF IT HAS BEEN ESTABLISHED 6 MONTHS OR MORE ACCREDITED, THROUGH C.D.C. ACCREDITATION COMMISSION OF BIBLICAL INSTITUTES FOR A FEE.
BUT IF YOUR SCHOOL JOINS THE CONSORTIUM YOUR ACCREDITATION WILL BE FREE. CONTACT US FOR FURTHER DETAILS AND INFORMATION.
LEARN HOW YOUR SCHOOL CAN BECOME ACCREDITED. GO TO CDC ACCREDITATION COMMISSION of BIBLICAL INSTITUTIONS AT our website: acobi.faithweb.com. If you would like more information sent out to you regarding your accrediation go to our email at acobi@cdcmf.com,
IF YOU DO YOUR RESEARCH YOU WILL FIND THAT MOST ACCREDITATION ORGANIZATIONS WILL NOT ACCREDIT YOUR SCHOOL IF IT HAS NOT BEEN ESTABLISHED FOR 2 YEARS OR MORE.
WE WILL ACCREDIT YOUR SCHOOL IF IT HAS BEEN UP AND RUNNING FOR 6 MONTHS OR MORE.
FOR INFORMATION TO BE SENT OUT TO YOU CONTACT US REGARDING BECOMING A CONSORTIUM SCHOOL.
EMAIL rcobi@cdcmf.com CLICK ON BELOW.
CONTACT US ABOUT BEING ACCREDITED AT EMAIL ADDRESS LISTED BELOW.